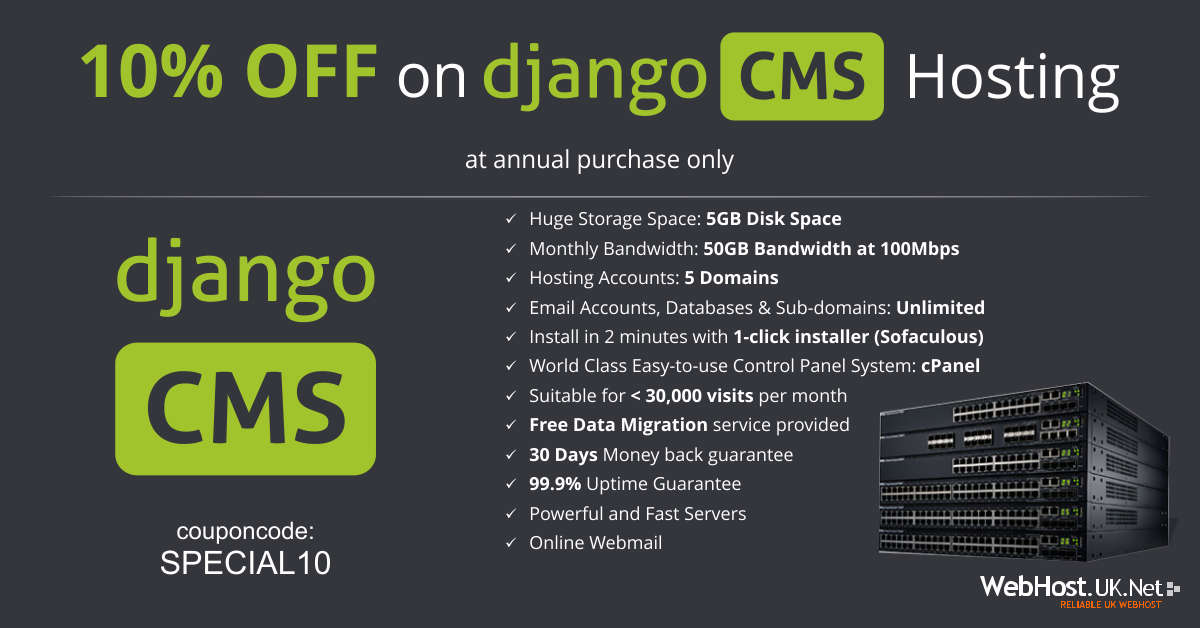 London, UK – June 8, 2016 – Webhost.uk.net one of the renowned name in Web hosting industry since 2003, is excited to launch django CMS Hosting Web Hosting in UK (Europe) powered by Django.  django CMS is one of famous Enterprise Content Management System which came into existence for developer and content editors to offer stability and security that other CMS application could not offer. While it's lightweight core makes it easy to integrate with other software and put to use immediately. django CMS is free open source CMS application developed in 2007 since then used by thousands of developers.
For Developers:
Developers can integrate other existing Django applications very easily, or build brand new compatible apps that take advantage of django CMS's publishing and editing features.
For Content Editors: django CMS is user friendly and has a very intuitive drag and drop interface. It is built around the needs of multi-lingual publishing by default, not as an afterthought: all websites, pages and content can exist in multiple language versions.
We are the most preferred UK django CMS Host because of below Django CMS Hosting Features:
1) Instant Django CMS Account Setup
2) Free Django CMS Installation
3) Great Django CMS tutorial
4) Django CMS Optimized Servers
5) Easy Django CMS Account Upgrade
6) 99.9% Uptime Guarantee
7)30 Day Money Back Guarantee
8) 24x7x365 Uninterrupted Support
The specialized Django Web Hosting plan is available just for £5.00 GBP per month and customers get 10% Discount on annual billing cycle which can be redeemed by using SPECIAL10 coupon code. WebHostUK offers 24/7 live chat and email support and servers are monitored round the clock. Confident in their network and support services, WebhostUK offers 99.9% uptime and 30 day money back guarantee. For more details on WebhostUK Django hosting, please visit https://www.webhostuk.co.uk/django-hosting.html

About WebHostUK:
One of the Best Hosting since 2003, WebHostUK LTD has made a name for itself by offering quality web hosting and support services. WebHostUK continues to offer most reliable, secure and cost-effective web hosting products in UK and US Data Centers. The wide array of web hosting products offered by WebHostUK includes Web Hosting, Reseller hosting, Cloud VPS Hosting,  Managed Dedicated Servers, Ecommerce Hosting and many more.
For more details, please log on to https://www.webhostuk.co.uk.  or Visit our 24x7x365 Live chat support