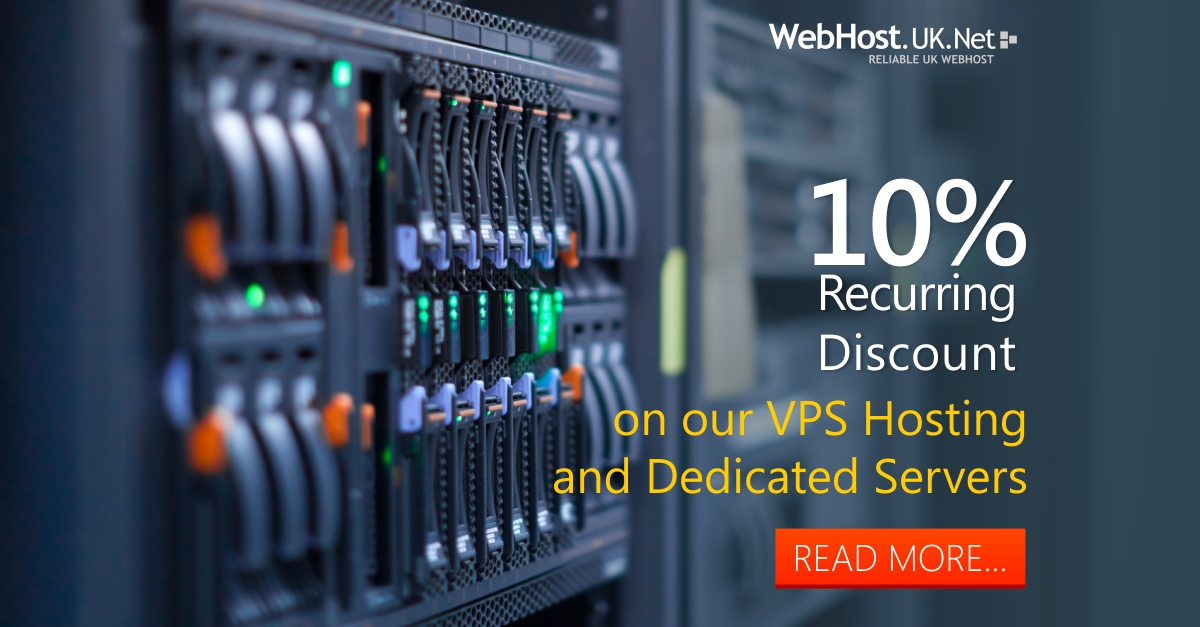 WebHostUK – A reliable, secure, economical and quality UK Web Hosting Provider brings you mid November Offer. Sign up for any VPS Hosting Plan or Dedicated Server by using "10FIRST" Coupon Code and get 10% Recurring Discount for life.
WebHostUK VPS Hosting is an ideal choice for customers looking for budget oriented hosting for their mid-sized business websites or applications that require Dedicated CPU resources. With VPS Hosting, you get Dedicated CPU resources and root access to the server with complete administrator control over your hosting environment allowing you to install third-party scripts.
To compare our Linux VPS Hosting Plans, please refer following link: UK Linux VPS Hosting
To compare our Windows VPS Hosting Plans, please refer following link: UK Windows VPS Hosting
WebHostUK Dedicated Servers are ideal choice for hosting websites and applications that requires heavy CPU resources. On Dedicated server, you are the sole owner of complete server. You get wide range of options to choose in dedicated servers depending upon your website and application requirement such as Processor Type, RAM, HDD, Bandwidth, Uplink Port, Operating system and Control Panel if needed. Choices in Dedicated Servers range from single core to multiple core processors.
The server resources are completely dedicated for the user's websites and applications. You get administrator rights and root access to the server allowing you to install 3rd party applications and scripts.
All our VPS Hosting & Dedicated Server plans are fully managed servers including server setups, OS optimization, security tweaks and 24/7 server monitoring with reboots.
Additional Features includes:
Free Setup within 24 hours
Free Round the Clock 365 Days Support through Live Chat & Ticket System
Price-Freeze
Free Data Transfer
Free Server Monitoring Round the Clock
99.9% Network Uptime SLA
Private Nameservers
To compare our Linux Dedicated Servers, please refer following link: UK Linux Dedicated Servers
To compare our Windows Dedicated Servers, please refer following link: UK Windows Dedicated Servers
The Mid-November offer is valid till November 24, 2013 only. So Hurry up and Order Now! If you have any questions please feel free to contact our Sales Department through Live Chat or email [email protected]