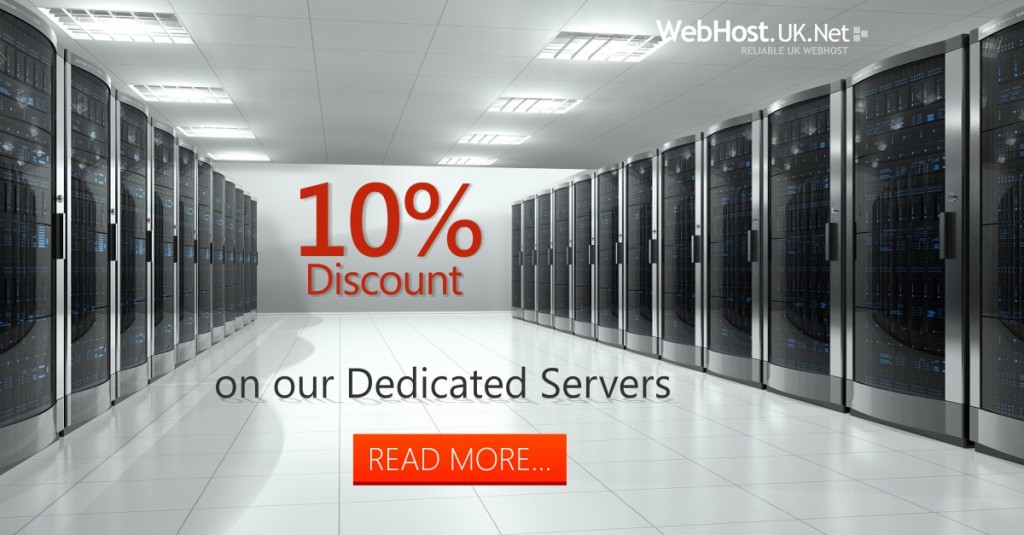 For a limited period of time, one of the leading UK Web Hosting providers, WebHostUK is offering 10% Discount on its Linux Dedicated Servers and Windows Dedicated Servers. You can redeem 10% Recurring Discount on Annual Billing Cycle by using 10LIFE Coupon code or get One-time 10% Discount on Monthly Billing Cycle by using 10ONE Coupon code. WebHostUK Dedicated Servers array includes Dual Core to High-End Dual Hex Core Servers starting from just £94.00 GBP per month.
WebHostUK Dedicated Servers are exemplary solution for IT professionals and SME's that requires high performance and secured servers for their websites and applications backed with consistent and reliable network. With no set-up fee and server deployment within 24-48 hours, customers can enjoy the benefit of Fully Managed Servers at no minimum term contract.
Linux Dedicated Servers starting from just £94.00 GBP per month – Order Now
Windows Dedicated Servers starting from just £114.00 GBP per month – Order Now
All Dedicated Server plans are fully managed servers including Server setups, OS optimization, security tweaks and 24/7 server monitoring with reboots. Our skilled server administrators are available round the clock over live chat to provide you instant technical support. All Dedicated Servers are backed with 99.9% Network Uptime Guarantee SLA.
To compare WebHostUK Dedicated Servers, log on to: https://www.webhostuk.co.uk/dedicated-servers.html
Benefits of Signing up for Webhost UK Dedicated Servers:
• Free Setup within 24 hours
• Free Round the Clock 365 Days Real-time Support
• Free Data Transfer
• Price-Freeze
• Free Data Transfer
• Free Server Monitoring Round the Clock
• 99.9% Network Uptime SLA
• Private Nameservers
Facts about WebhostUK Ltd:
• Registered in England and Wales.
• Company No.: 06804234
• VAT Registration No.: GB946132917
• WebhostUK limited is one of the leading UK Web hosting providers.
• We have been in the web hosting business since 2004 and continue to lead the industry since more than 9 years.
• We are one of the fastest growing Web hosting providers in United Kingdom.
Should you have any queries about the offer, please feel free to email [email protected].