A tutorial that will guide you about how to enable CloudFlare with Railgun for your website.
Cloudflare is a CDN that allows to enhance your website performance, speed and latency with the help of their distributed network across the globe!
Cloudflare offers a premium feature called as Railgun which helps improving the website load times, especially for dynamic websites such as WordPress devloped websites, Drupal, Joomla etc.
Railgun ensures that the connection between your origin server and the Cloudflare network is as fast as possible. It is a premium plugin from Cloudflare which is available as a paid feature. However, we at WebHostUK, being an exclusive Cloudflare partner, offer Railgun for free for websites hosted on our server.
Below tutorial will explain you how to enable Cloudflare with Railgun on our servers.
---
Once your order is processed and your account is enabled, you will gain cpanel access to your account, where Cloudflare tool is available under "Software" section as visible in below screenshot:

---
Click on Cloudflare and it will then redirect you to Cloudflare setup wizard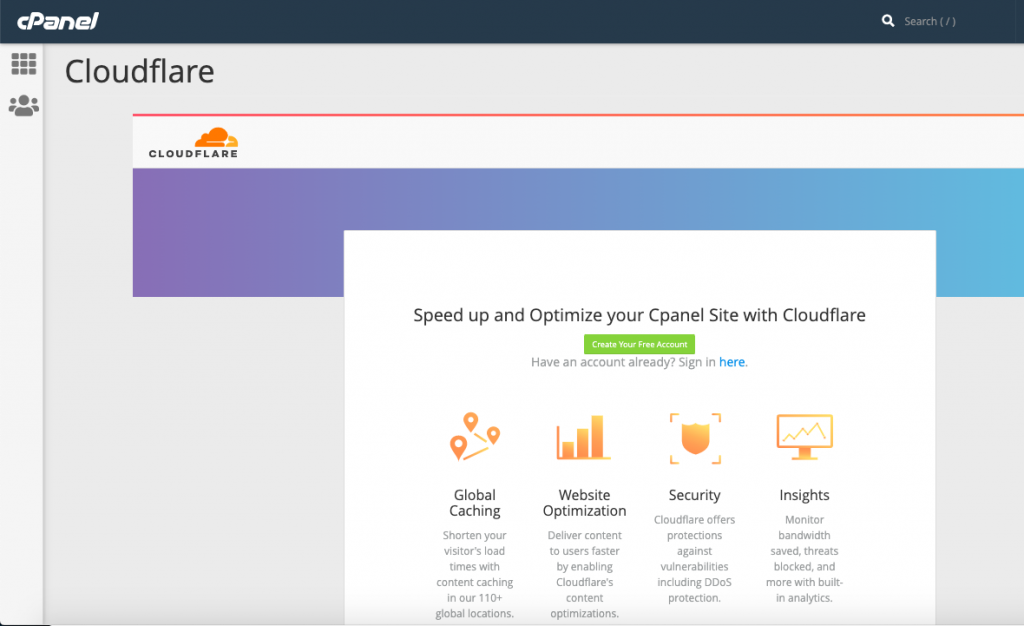 ---
You can use any of your existing Cloudflare account or create a new one. If you already have an account with Cloudflare, then please make sure that the domain (for which you are intending to add Railgun) is not existing in your Cloudflare account. If it is so, kindly delete it from your Cloudflare.com portal login.
---
To integrate Cloudflare, you have two options:
i. Partial setup also known as CNAME setup of website with Cloudflare : In this setup, your domain will use our nameservers and the CNAME of "www" prefix of your domain will be resolving to Cloudflare alias domain name.
Pro's of CNAME Cloudflare setup : DNS zones are configured on our server which means, you do not need to do any manual DNS changes for your domain or its MX records or subdomains. These DNS records are automatically configured in DNS zones on our servers.
Con's of CNAME Cloudflare setup : Since only "www" prefix is configured with Cloudflare alias hostname, Cloudflare with Railgun for the respective website will only work if domain is accessed with www prefix. If the website is not accessed with www prefix, Railgun will not work. So you will have to force redirect your website to its www prefix using rules in .htaccess
---
ii. CloudFlare DNS Managed setup or full setup : In Cloudflare DNS managed setup, your domain will use Cloudflare nameservers which means all host records including "A", "MX", "NS", "SPF", "DKIM" etc are all hosted on Cloudflare servers. Cloudflare will control DNS for your domain and we no longer have any DNS control for your websites or its subdomains.
Pro's of Cloudflare DNS managed setup: Cloudflare with Railgun will work for domain with or without "www" prefix. This eliminates the need of any such redirect of website from non-www url to www url
Con's of Cloudflare DNS managed setup: Since Cloudflare will manage your DNS, you will need to manually add MX, SPF or DKIM records in Cloudflare DNS portal. Whenever you create any subdomain, its entry will also need to be manually added in Cloudflare DNS portal.
---
Once you have enabled Cloudflare for your domain using any of "cname or cloudflare dns managed setup" as explained above, you will now need to request for enabling Railgun for your domain. In order to request enabling "Railgun" for your domain, you will need to submit a request at : https://www.webhostuk.co.uk/railgun-request.php
Your submitted request will raise a support ticket under your account, and our 24/7 support team will then enable Railgun for your requested domain and update you via your support ticket.
How to check if Cloudflare with Railgun is working for your website?
To check if cloudflare with Railgun is working properly for your website, you need to take help of an extension plugin which is available for Google Chrome Browsesr : https://chrome.google.com/webstore/detail/claire/fgbpcgddpmjmamlibbaobboigaijnmkl
Cloudflare if sucessfully enabled for your website and when accessed in Chrome, will show "red" dot as seen in below image