Leading review platform for business solutions FinancesOnline vouched for WebhostUK LTD as a reliable provider for web hosting services and solutions, distinguishing us with the 2018 Great User Experience and 2018 Rising Star awards.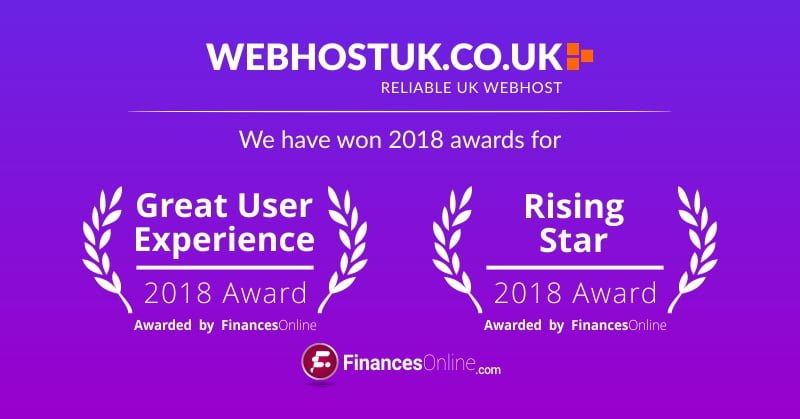 At WebhostUK LTD, we strive to offer the cheapest and most reliable web hosting solution on the market, and FinancesOnline acknowledged this in their review. They stated that WebhostUK provides "the fastest and most affordable hosting packages with unlimited bandwidth and unlimited accounts" while also offering quality 24/7 support. Being recognized in FinancesOnline's top web hosting for WordPress and receiving their glowing recommendation deeply humbles our team. All in all, this indicates that we are on the right track in providing the best possible website experience for users.
The Great User Experience award is given in recognition for offering a consistent quality user experience to customers. In their WebhostUK LTD overview, FinancesOnline also lauded WebhostUK for providing businesses with a means to "build a custom website from the ground up effortlessly."
Meanwhile, the Rising Star award can be attributed to our positive customer feedback. FinancesOnline grants this award to the fastest growing solutions on the market and are seen as a reliable brand by customers. The team at WebhostUK specializes in quality web hosting to all types of clients and work tirelessly to ensure a reliable and smooth hosting experience.
We would like to extend our sincere appreciation to FinancesOnline for considering WebHostUK LTD as one of the top recommendations in the dedicated server hosting solutions study. If you're a loyal customer of WebhostUK LTD, you can add to FinancesOnline's assessment by leaving a user review on their website.