What does SSD means ?
SSD stands for Solid State Drive.  It's a flash storage drive and has no moving parts in it like hard disk drive. SSD drive makes use of electronic cells in order to transfer or send and receive data through controller in built in it. SSD drives are more usable and high performance oriented drive then HDD. They have faster read/write speed and sue to this we can get enhanced server performance along with quick response time and faster website loading. As they do not contain moving parts, we cannot hear any sort of noise as in case of HDD.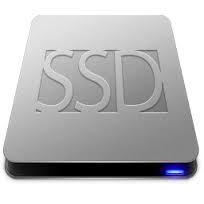 What is HDD ?
HDD stands for Hard Disk Drive. These drives have been used in many electronics devices since more than decade. They contain rotating disk with magnetic head.  Due to the moving parts they are more prone to get damaged, if the read/write processes are being performed vigorously. They also take more time load OS as compared to SSD drives. We can also here the noise done by them at time of booting process and also while performing read/write operations.
Benefits of SSD drives:
It contains no moving parts. Due to this they are more durable as compared with HDD drives.
They have much faster read/write speed with compared to HDD drives.
Faster data accessing speed as compared to HDD.
As they have no moving parts inside, they reduced heat generation.
Power consumption is another benefit of SSD drive.
SSD drive plays major role in consumer electronics as they require less space as compared with HDD.
They are more suitable to portable devices like Laptops, tablets as they are more prone to movements.
The only drawback of SSD drives are that they are more costly then HDD and they are available is specific size and capacity like 120GB, 256GB, 500GB or 1TB only. In order to get this capacity, you need to count big money.
Webhost UK, one of the leading web hosting services providers in UK has always tried to cope with new technologies and so have launched new SSD drives based servers and various hosting plans to customers seeking for better server performance and faster response time. We have updated Shared SSD Hosting and Reseller SSD Hosting plans  and at the same time more resources as compared to their old plans.
WebhostUK, being into website hosting business since 2004, is known to provide services such as Domain Name Registrations, Shared hosting plans, Reseller hosting plans, Ecommerce solutions, Cloud VPS hosting plans, Fully Managed Dedicated Servers & SSL certificates. Customer satisfaction with quality service and support is main aim of WebhostUK.