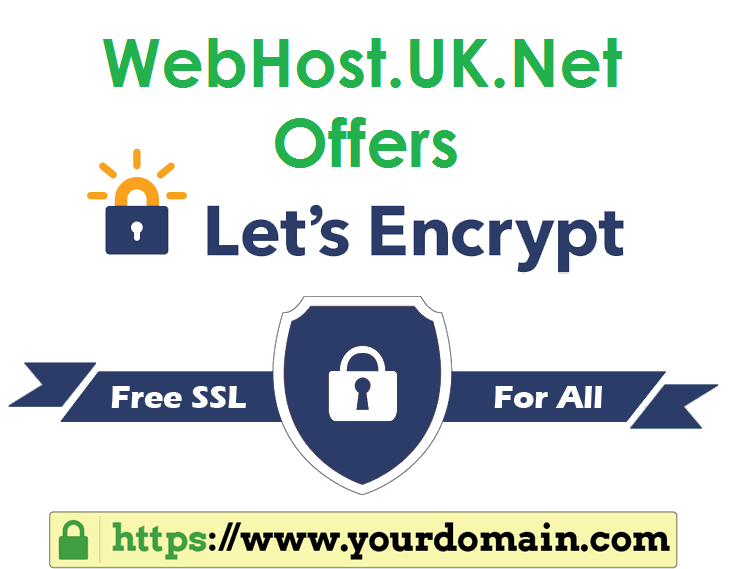 London, UK – October 3, 2016 – WEBHOSTUK LIMITED has introduced Free SSL Let's Encrypt SSL certificates with all their shared and reseller web hosting plans with an official announcement as on Monday  October 3rd 2016
Let's Encrypt is a free open source alternative to traditional, commercial SSL certificates. It is absolutely free of cost and uses an automated domain-validated system (DV certificate) to issue security certificates. The goal of this open-source project is to make web browsing safer for all internet users by making data transfer encryption free, fast and accessible.
The key benefits of the Let's Encrypt certificates are:
⦁    cost-free
⦁    easy installation
⦁    no validation emails are sent
⦁    no dedicated IP required (which is extra money)
⦁    trusted by all major browsers
⦁    auto renewable
On WebHostUK servers, you can now install Let's Encrypt certificates for free through the cPanel of your hosting account. You can have multiple certificates installed on your account for each domain and subdomain you want. The certificates auto renew unless you choose to cancel them through the cPanel interface.
"We're truly delighted to announce that WebHostUK now offers easy, unlimited, free SSL certificates to users on our shared and reseller web hosting plans," said Head of Business Development – Max Foster, quoted in the press release. He further added, "By making SSL deployment a simple, easy to click process, we're continuing to empower our users to focus valuable time and energy on their businesses and projects."
WebHostUK will offer free Let's Encrypt SSL certificates with several of their hosted plans such as shared uk web hosting, reseller web hosting, wordpress hosting, joomla hosting, drupal hosting etc
Users having any of above plans, will be able to install Let's Encrypt free SSL certificate by logging to their control panel and with just a few clicks.
About WEBHOSTUK LTD: WEBHOSTUK LTD is a leading UK hosting company, specializes in helping small businesses build an online customer base with a comprehensive range of services that includes web hosting and design, reseller hosting, Cloud virtual private servers and dedicated servers, e-commerce, domain name registration, SSL certificates and much more. With over 150K satisfied customer base across all over the globe, the company has been offering UK and US hosting services in UK and US datacenters respectively. The company claims to offer 99.99% guaranteed uptime for their hosting services backed up with 24/7 live chat and email support for their customers.