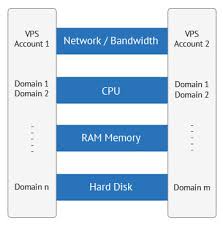 A virtual private server or VPS hosting divides a server into virtual servers, where each websites is like hosted on their own dedicated server, but they're actually sharing a server with a few different other users.
The users may have root access to their own virtual space and better secured hosting environment with this type of hosting. Websites that need greater control at the server level, but don't want to invest in a dedicated server.
VPS hosting is a newer form of web hosting, VPS seeks to combine few of the attractive features offered by dedicated hosting with the affordability provided by shared hosting.
VPS hosting can be a great move if you are starting off with a resource intensive website that may need additional resources to function smoothly. Virtual dedicated hosting can also be a perfect upgrade if the resources being offered by shared hosting are not sufficient to keep your website going without any glitches.
This type of hosting provides more control over the assigned resources and better security at a significantly lower cost. A hybrid of shared hosting and dedicated hosting, it supports higher online traffic and more control like dedicated server but only at a fraction of the cost of dedicated hosting.
Users are given super level access to these servers, and each VPS gets its own copy of operating system along with resources like bandwidth, RAM, storage space, etc.
Account holders have the freedom to install and run all the software and applications that the chosen OS supports. Each account holder in a virtual private server environment gets a unique IP address and remains completely isolated from what others are doing on the same server.
There also fewer security issues with VPS hosting. Virtual private server accounts unlike shared hosting come with own unique IP addresses, and the virtualization layer means that you remain completely affected by any problems arising on other sites.
Getting the best out of your virtual server hosting
The actuality that you remain completely separate from other account holders residing on the same server is one of the best features of virtual dedicated server hosting.
You have your own dedicated set of resources assigned to your own hosting account ensuring that your website continues to perform at its optimum level despite extra resource consumption by other websites. This invariably leads to better security, more control, high levels of uptime and faster loading speed for your website.
Virtual private server offers control and security of dedicated hosting without the high cost associated with it. You only need to ensure that you have a quality and reputable service provider by our side who never fails to provide the resources that has been promised to you.