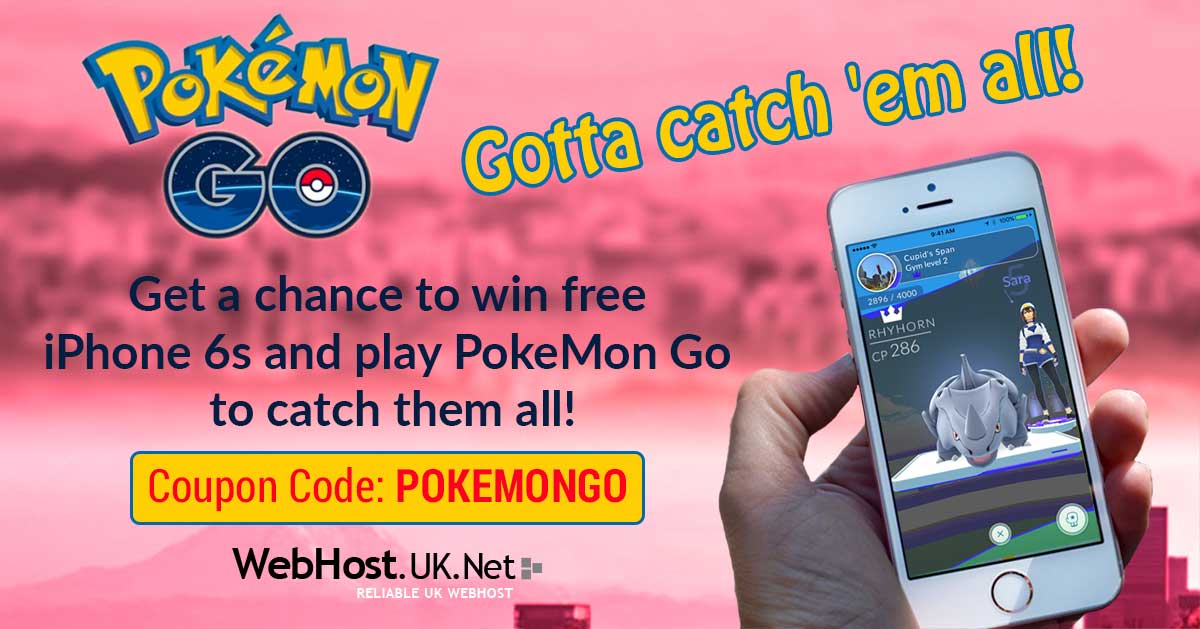 Its summer time and the most exclusive and hottest web hosting deal for this summer is out there..
Get a chance to win Apple iPhone 6s and play Pokémon GO on your favourite phone to catch them all!
Signup with any of our web hosting plans as available on https://www.webhostuk.co.uk and get a chance to win a brand new Apple iPhone 6s, and play your favourite Pokémon GO to catch all of them. Additionally blast your summer with guaranteed 10% discount on any of our web hosting plans that you choose to signup.
How does this work? Follow these steps:
* Visit our website https://www.webhostuk.co.uk and choose any web hosting plans as per your requirement to proceed with signup by clicking on "Order Now". The above offer is valid on our shared hosting plans, Reseller hosting, WordPress hosting, Vps Servers, Dedicated Servers and Cloud Servers.
* Enter coupon code "PokeMonGo" to get 10% exclusive discount and a chance to win brand new Apple iPhone 6s (16 GB), and proceed with payment.
* Once your order is processed, you will qualify for Apple iPhone 6s lucky draw which will be organized on Saturday of every week at 11:00 am GMT
* This is a limited offer and valid till 31st of August 2016.
Terms & Conditions:
* Only the orders which are placed from 21st of July 2016 to 31st of August 2016 and which use the coupon code "PokeMonGo" are eligible for iPhone 6s lucky draw.
* All customers who order any web hosting plan and make the payment for that order during the period mentioned above, automatically take part in the competition, provided they are at least 18 years of age as on 21st July 2016.
* One lucky winner chosen using a random lucky draw on Saturday of every week, will win a brand new Apple iPhone 6s 16 Gb.
* We will be contacting the lucky winner and the winner will have to claim his free iPhone 6s within one week. Failing to do so, will void his claim on free iPhone 6s he has won.
* The contact information provided during the order should be accurate as it will be used to contact the winner. Personal data shall not be disclosed to third parties under any circumstances.
* The lucky draw is to be held on Saturday of every week at 11:00 am GMT. The person who has won Apple iPhone 6s using above offer, will not be eligible for any other free Apple iPhone 6s to be offered in lucky draw afterwards.
* Cash payments as well as transfer of prizes to third parties is not possible.
* The colour of Apple iPhone 6s mobile handset may vary, depending on the availability of stock.
* WebhostUK Ltd reserves the right to discontinue or terminate the offer at any time without prior notice and without stating reasons. This particularly applies if proper implementation cannot be guaranteed due to technical or legal reasons. In such cases, participants are not entitled to make any claims whatsoever.
* WebhostUK Ltd further reserves the right to disqualify participant from the competition. This particularly applies in the event of violation of the Promotion Terms and Conditions or if participants make use of manipulation or any other unfair means of help.
* WebhostUK Ltd can also retrospectively disqualify participants, revoke prizes and reclaim them.
* Legal recourse is not possible. The law of United Kingdom applies exclusively. The General Terms and Conditions of WebhostUK Ltd https://www.webhostuk.co.uk/tos.html apply.
Hurry this is a limited offer and you could be one of the lucky person to get your iPhone 6s and play the most popular trending sensation Pokémon GO, to catch all those tiny creatures out there..!